ASBMT Goes to Washington!
ASBMT hosted its first Legislative Day in Washington, D.C., on Thursday, Sept. 7, in partnership with the NMDP. The goal for the day was to educate Congressional representatives on issues that affect the field of hematopoietic cell transplantation – Medicare reimbursement, physician payment and research funding.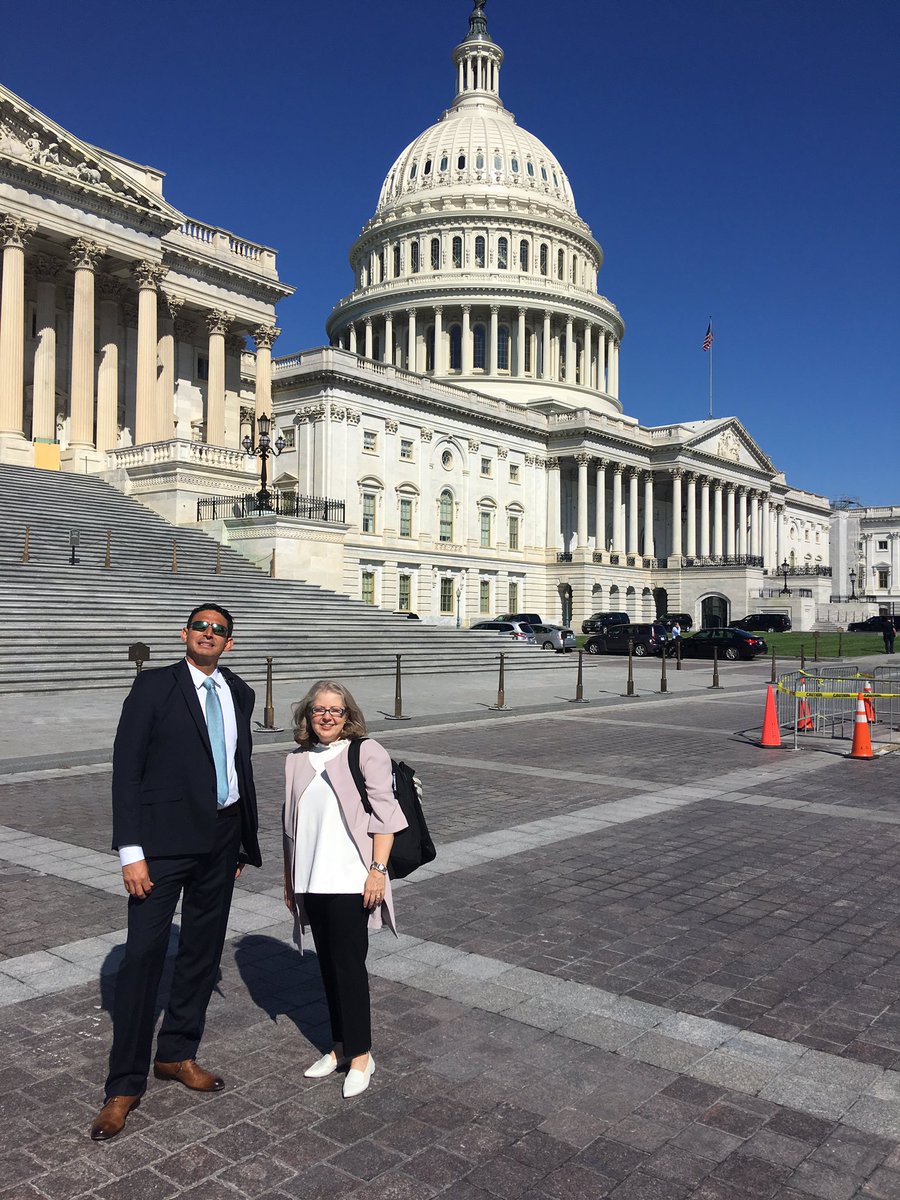 A group of 11 ASBMT representatives were chosen to attend, based on home locations that represent key Congressional or Senate districts.  

Edward Peres, MD, of Henry Ford in Detroit
Dianna Howard, MD, of Wake Forest in Winston-Salem
Fred LeMaistre, MD, of Sarah Cannon, in Nashville
Corey Cutler MD, of Dana Farber in Boston
Sue Coolidge, CMA, of Seidman Cancer Center in Cleveland
Rebecca Tombleson, PharmD, of Moffitt in Tampa
John DiPersio, MD, of Washington University School of Medicine in St. Louis
Clint Divine, of the University of Kansas in Kansas City
Navneet Majhail, MD, of Cleveland Clinic in Cleveland
James Gajewski, MD, ASBMT Practice Policy Consultant from Portland
and Reagan Cussimanio of the University of Kansas in Kansas City
During the course of the day, BMT representatives visited nearly 30 legislators' offices.  Those more experienced at meeting with law makers were paired with first-timers.  

"I was very encouraged by our visit with the Congressional offices regarding our effort to improve CMS reimbursement models for stem cell transplant for Medicare beneficiaries," said Dr. DiPersio, ASBMT's president-elect. "I left Washington with the sense that we communicated our issues clearly and that we were met by bipartisan support for our proposals. I was most encouraged by the fact that both the House and Senate were working on separate bills that would respond to our needs and recommendations further reducing the risk of limiting access of Medicare beneficiaries for life saving stem cell transplant procedures."  
"It was truly a great day," said Dr. Cutler. "I actually felt we were doing something for the greater good that day."  Although Dr. Cutler originally met only with Senate staffers, he did bump into Sen. Elizabeth Warren at the airport. "I told her that I was JUST IN her office," said Dr. Cutler.  "That got me 30 seconds of her time, so I could tell her the abbreviated pitch, and of course, I got a selfie!"    
"We also reminded all House and Senate staffers that we met with that maintaining NIH funding is absolutely essential for continued progress in our efforts better understand the biology of cancer and those treatments that will prolong life and the quality of our patients' lives," said Dr. DiPersio.  

"Overall the visit was extremely productive and I was pleased to see the bi-partisan support on the issues we discussed, which was very encouraging," said Clint L. Divine, MBA, MSM.  

More photos from the day-long excursion were posted to ASBMT's Facebook and Twitter pages.  To see them, scroll until you see posts from September 7.  
---

Read the entire October 2017 ASBMT eNews here.