December 2017 Issue of eNews
December 2017 
 Download the entire issue here in PDF format.  Selected stories below . . .  
---
Policy Perspectives
by Stephanie Farnia, ASBMT Director of Health Policy and Strategic Relations
"Winter is coming…" I have never seen Game of Thrones, but am told this phrase is an ominous bit of foreshadowing. In the slightly less bloody realm of healthcare policy, winter is instead a brief and welcome respite from the Medicare rule-making cycles that dominate the calendar between April and November. It also affords a bit of time to reflect on accomplishments of the year to date, prioritize issues left undone and start to develop plans to tackle those concerns. My primary regret in the close of this year is having had to tell many of you that certain issues - of real importance to your programs - need to wait in queue behind other matters; as someone that has long asked members of the transplant community to consider problems of access and reimbursement, it is painful to know that not all can be addressed simultaneously.  READ MORE.  
---
A Message from the President

A Word from President Krishna Komanduri, MD   
Dear Colleagues, As I write this, I am honestly amazed at how 2017 has flown by. This column will mark my last of the calendar year, and as you read this those of you who will not be providing vital clinical care over the holidays will likely be thinking ahead to some well-deserved time with your loved ones over the winter break. Like me, you'll also be contemplating resolutions for the new year that we hope will persist at least into springtime. READ MORE. 
---
DiPersio Receives NCI Outstanding Investigator Award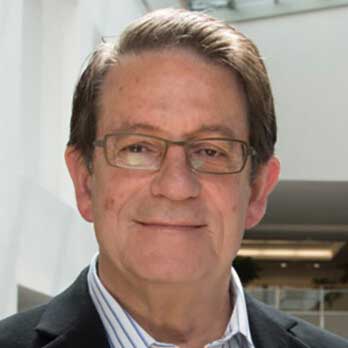 ASBMT President-Elect John F. DiPersio, MD, PhD, of Washington University School of Medicine in St. Louis, has received a $6 million outstanding investigator award from the National Cancer Institute (NCI) of the National Institutes of Health (NIH) to support research aimed at improving therapies for leukemia. "One of our major goals is to optimize stem cell transplantation — both in making the process of donating stem cells faster and more efficient and in finding ways to control the potentially damaging side effects of the transplant," DiPersio said. READ MORE.
---
Plesca Chosen as Inaugural ASBMT Pharmacy SIG New Investigator Award Recipient
Dragos Plesca, PharmD, PhD, BCOP, will be honored with the very first ASBMT Pharmacy SIG New Investigator Award at the BMT Tandem Meetings, February in Salt Lake City. Dr. Plesca's project title is "Acquired immunity in multiple myeloma patients undergoing maintenance therapy post autologous stem cell transplantation." His research will be fully funded in the amount of $25,000 per year for two years, and is sponsored by Takeda Oncology. This is the first time the ASBMT Pharmacy SIG has given this New Investigator Award. The winners of the ASBMT New Investigator Awards, given annually for nearly 10 years, will be announced in the coming months. READ MORE.
---
Attend the 2018 BMT Tandem Meetings Virtually!


If you can't get away to the 2018 BMT Tandem Meetings in Salt Lake City this year - but don't want to miss out on things your colleagues are experiencing, there is a way to participate VIRTUALLY. Once again, you can actively participate in several of the sessions right from your computer – without getting on a plane. This year, however, we will be using a different platform – without avatars. You will still see what the "in-person" Tandem attendees are seeing and hear what they hear in real time.  READ MORE.
---
ASBMT Self-Directed Learning Quiz

On behalf of the ASBMT Committee on Education we are pleased to introduce "Basic Principles and Practices of Hematopoietic Cell Transplantation and Cell Therapy – Question and Answer Approach," a new self-directed learning quiz highlighting hematopoietic cell transplant and cell therapy topics. Answers to each question appear with evidence-based "non-exhaustive" peer-review commentary. Our aim is to provide you with a credible and freely available educational resource. Questions are generated and reviewed by Syed Abutalib, MD, Mark R. Litzow, MD, and William A. Wood, MD. READ MORE.
---
2018 Fundamentals of Hematopoietic Cell Transplantation Training Course

The Fundamentals of HCT Training Course will be held Saturday, March 24 from 1:00-6:00 PM and Sunday, March 25 from 8:00 AM to 1:00 PM, held proceeding the HOPA 14th Annual Conference at the Colorado Convention Center in Denver, CO. This course is jointly planned by the American Society for Blood and Marrow Transplantation and the National Marrow Donor Program®/ Be The Match®. This course provides practitioners with the skills required to care for patients undergoing hematopoietic cell transplantation (HCT), with a focus on pharmacotherapeutic management throughout the transplant process. Register now: READ MORE.
---
Dr. Stephanie Lee elected vice president of American Society of Hematology


The American Society of Hematology has elected Dr. Stephanie Lee, a member of the Clinical Research Division at Fred Hutchinson Cancer Research Center, to be its vice president. The one-year term will begin after the 2017 ASH Annual Meeting Dec. 9–12 in Atlanta. It will be followed by successive one-year terms as president-elect and then as president. ASH announced the news Nov. 1. Lee will be the first Fred Hutch faculty member to serve on the ASH Executive Committee since Hutch bone marrow transplant pioneer and Nobel laureate Dr. E. Donnall Thomas served as president in 1988. READ MORE.
---
Also in this issue. . . 
  Download the entire issue here in PDF format.